ZPure™ PolyGas I Purifiers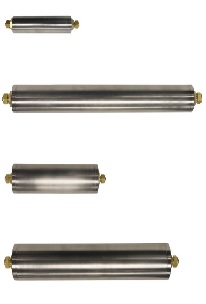 The ZPure PolyGas I Purifier removes a wide range of contaminants including oxygen, water, CO2, CO, halogenated compounds, siloxanes, hydrocarbons heavier than butane, sulfur-containing molecules, ammonia and other gases.
It can be used to purify inert gases, He, Ar, N2, and H2, making it ideal for use with GC and GC/MS carrier gas lines. It is also recommended for any application requiring ultra-pure gas free from oxygen, water and hydrocarbons (heavier than butane).
It is available in 4 sizes of stainless steel cylinders ranging from 130 cc to 750 cc. The ZPure PolyGas I Purifier is available with standard compression fittings and quick connect fittings offered in 1/4" and 1/8" brass and stainless steel
130cc

Capacity

O2: 175 cc
H2O*: 3.6 g
HC**: 4.0 g

Efficiency

O2: < 5 ppb
H2O*: < 20 ppb
HC**: < 5 ppb

Nominal Flow Rate

320 cc/min

Max Recommended
Flow Rate

1 SLPM***

Hazardous
Shipping

NO
Max. Pressure
(PSI)

Approximate
Dimensions

Fitting Type

Part Number

1000

3.2 cm x 28 cm

1/8 in Brass Compression Fittings

202285-B

1/8 in Stainless Steel Compression Fittings

202285-SS

1/4 in Brass Compression Fittings

202286-B

1/4 in Stainless Steel Compression Fittings

202286-SS
200

3.2 cm x 34 cm
(28 cm w/o fittings)

1/8 in Brass Quick Connect Fittings

202285-B-QC

1/8 in Stainless Steel Quick Connect Fittings

202285-SS-QC

1/4 in Brass Quick Connect Fittings

202286-B-QC

1/4 in Stainless Steel Quick Connect Fittings

202286-SS-QC
LS - 475 cc

Capacity

O2: 634 cc
H2O*: 13.0 g
HC**: 15.0 g

Efficiency

O2: < 5 ppb
H2O*: < 20 ppb
HC**: < 5 ppb

Nominal Flow Rate

1 SLPM

Max Recommended
Flow Rate

3.65 SLPM***

Hazardous
Shipping

NO
Max. Pressure
(PSI)

Approximate
Dimensions

Fitting Type

Part Number

1000

3.8 cm x 57 cm

1/8 in Brass Compression Fittings

202285L-B

1/8 in Stainless Steel Compression Fittings

202285L-SS

1/4 in Brass Compression Fittings

202286L-B

1/4 in Stainless Steel Compression Fittings

202286L-SS
200

3.8 cm x 63 cm
(57 cm w/o fittings)

1/8 in Brass Quick Connect Fittings

202285L-B-QC

1/8 in Stainless Steel Quick Connect Fittings

202285L-SS-QC

1/4 in Brass Quick Connect Fittings

202286L-B-QC

1/4 in Stainless Steel Quick Connect Fittings

202286L-SS-QC
DS - 500 cc

Capacity

O2: 665 cc
H2O*: 13.6 g
HC**: 16.0 g

Efficiency

O2: < 5 ppb
H2O*: < 20 ppb
HC**: < 5 ppb

Nominal Flow Rate

1.2 SLPM

Max Recommended
Flow Rate

3.85 SLPM***

Hazardous
Shipping

NO
Max. Pressure
(PSI)

Approximate
Dimensions

Fitting Type

Part Number

200

5 cm x 35 cm

1/8 in Brass Compression Fittings

202285D-B

1/8 in Stainless Steel Compression Fittings

202285D-SS

1/4 in Brass Compression Fittings

202286D-B

1/4 in Stainless Steel Compression Fittings

202286D-SS
200

5 cm x 41 cm
(35 cm w/o fittings)

1/8 in Brass Quick Connect Fittings

202285D-B-QC

1/8 in Stainless Steel Quick Connect Fittings

202285D-SS-QC

1/4 in Brass Quick Connect Fittings

202286D-B-QC

1/4 in Stainless Steel Quick Connect Fittings

202286D-SS-QC
XLS - 750 cc

Capacity

O2: 1000 cc
H2O*: 20.4 g
HC**: 23.8 g

Efficiency

O2: < 5 ppb
H2O*: < 20 ppb
HC**: < 5 ppb

Nominal Flow Rate

7.5 SLPM

Max Recommended
Flow Rate

5.77 SLPM***

Hazardous
Shipping

NO
Max. Pressure
(PSI)

Approximate
Dimensions

Fitting Type

Part Number

200

5 cm x 50 cm

1/8 in Brass Compression Fittings

202285XL-B

1/8 in Stainless Steel Compression Fittings

202285XL-SS

1/4 in Brass Compression Fittings

202286XL-B

1/4 in Stainless Steel Compression Fittings

202286XL-SS
200

5 cm x 56 cm
(50 cm w/o fittings)

1/8 in Brass Quick Connect Fittings

202285XL-B-QC

1/8 in Stainless Steel Quick Connect Fittings

202285XL-SS-QC

1/4 in Brass Quick Connect Fittings

202286XL-B-QC

1/4 in Stainless Steel Quick Connect Fittings

202286XL-SS-QC
* Water capacity based on an inlet moisture concentration of 200 ppmv
** Hydrocarbons heavier than C4
*** For high flow applications, contact analytical@btconnect.com