Pre-Cut Stainless Steel Tubing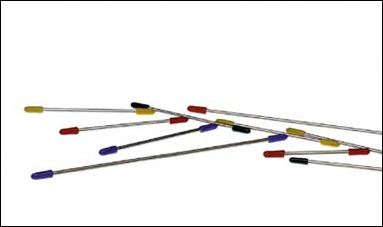 - Pre-cut stainless steel tubing in lengths most commonly required in HPLC systems.
- Each tube is ready to use.
- Use 0.25mm (0.010") ID tubing from the same injection valve to the column and from the column to the detector- keep them as short as possible.
- We recommend 0.50mm (0.020") or 0.75mm (0.030") ID tubing for the transfer of the mobile phase from the pump to the injection valve.
- Use smaller ID when working with a gradient system.
| | | | | |
| --- | --- | --- | --- | --- |
| 40mm | 1/16" | 0.13mm | Red | J97000 |
| 50mm | 1/16" | 0.13mm | Red | J97005 |
| 100mm | 1/16" | 0.13mm | Red | J97010 |
| 200mm | 1/16" | 0.13mm | Red | J97015 |
| 300mm | 1/16" | 0.13mm | Red | J97020 |
| 50mm | 1/16" | 0.18mm | Yellow | J97025 |
| 100mm | 1/16" | 0.18mm | Yellow | J97030 |
| 200mm | 1/16" | 0.18mm | Yellow | J97035 |
| 300mm | 1/16" | 0.18mm | Yellow | J97040 |
| 50mm | 1/16" | 0.25mm | Blue | J97045 |
| 100mm | 1/16" | 0.25mm | Blue | J97055 |
| 200mm | 1/16" | 0.25mm | Blue | J97060 |
| 300mm | 1/16" | 0.25mm | Blue | J97065 |
| 50mm | 1/16" | 0.50mm | Orange | J97075 |
| 100mm | 1/16" | 0.50mm | Orange | J97080 |
| 200mm | 1/16" | 0.50mm | Orange | J97085 |
| 300mm | 1/16" | 0.50mm | Orange | J97090 |
| 50mm | 1/16" | 0.75mm | Green | J97095 |
| 100mm | 1/16" | 0.75mm | Green | J97100 |
| 200mm | 1/16" | 0.75mm | Green | J97105 |
| 300mm | 1/16" | 0.75mm | Green | J97110 |